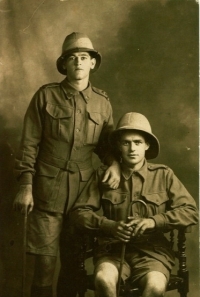 John Joseph on the left in Naval Reserve Uniform...other person is unknown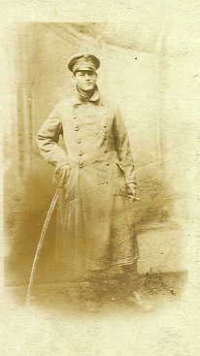 (Great Uncle)
Posing in a German Officers Coat with Sword









Color Patch of the 18th Battalion
John Joseph Luck
D C M and M M

Naval Reserve
1910 - 1915
Officer (Unknown Rank)

Australian Army
Sergeant
2285
Enlisted 7 July 1915
Age 22
D Company 18th Battalion
5th Infantry Brigade
2nd Division
Australian Imperial Force
Discharged 27 August 1919


Awarded:
Military Medal (M.M.)19 June 1918
Recommendation made by Colonel E. Martin Commanding 5th AI Brigade A.I.F.

Note: The original recommendation was for the Distinguished Conduct Medal but was not recommended in the Kings Birthday Honours List.

"In the attack on the morning of the 19th instant near MORLANCOURT, after all the officers of the Company but one had been killed or wounded, a machine gun position was captured by a party led by this N.C.O.. At this time the left flank was in the air. This N.C.O. took the captured gun out in front and covered the flank until the position was consolidated and the flank connected. Later in the day he came to the assistance of an officer and N.C.O. who were mopping up a post which had been missed.
He displayed great coolness and leadership of a high order."
Note: A copy of the original recommendation is in Joseph's Military Documents.

Distinguished Conduct Medal (D.C.M.) 9 August 1918
The recommendation by E.F. Martin, Brigadier-General, Commanding Officer 5th Aust.Inf.Bde. to Charles Rosenthal, Major-General, Commanding Second Australian Division, for the D.C.M. reads:
"In the advance on the 9th August 1918, towards RAINECOURT, east of AMIENS, the troops on the left of this Unit did not advance as expected. Sergeant LUCK was on the left flank of the Battalion and had no protection from fire from the area on his left and left rear. An enemy strong post was seen about 80 yards from the main road, the left boundary of the advance. Three machine guns were firing from it, and also an anti-tank gun, while the post itself was well protected by earthworks and a strong belt of wire.
Sergeant LUCK and 5 men were detached by 300 yards from all other troops and found themselves close to the strong post. Without hesitation Sergeant LUCK led his small party towards it. They crawled within bombing range and then rushed the post capturing the entire garrison. On capture it was found to be held by 1 Officer, 4 N.C.Os and 25 men with anti-tank gun, 2 heavy machine guns and a Lewis gun.
The post had been enfilading the whole Battalion in advance and had already caused casualties while the tank gun was engaging the co-operating tanks. During the whole advance and subsequent consolidation, Sergeant LUCK displayed great courage and skill and set a splendid example to his company."

Note: A copy of the original recommendation is in Joseph's Military Documents.

An extract from "The Official History of Australian Army in the War 1914-1918" by C.E.W. Bean reads "On the left among the big German dumps at the Roman road, Sergt. Luck of the 18th96 saw a post firing on the tanks with a trench-mortar. With five men he crept behind it, threw a few bombs, and captured an officer and 21 other Germans and three machine-guns.97

96 Sgt. J.J. Luck D.C.M., M.M. (No.2285; 18th Bn.). Coal Lumper ; of Millers Point, N.S.W.; b. Sydney, 1893.
97This officer, when captured, ordered Luck to stand to attention and salute him. Luck hit him under the chin, stood him to attention, and sent him off.


Born: 1896 in Millers Point Sydney NSW
Parents: William Richard Luck and Gertrude Byrne
Brother of: Private Percy John Luck (WW2), Trooper Donald Augustus Luck (WW2) and Private Roy Francis Luck (WW2 - killed in action 1941 at Tobruk Libya)

Note: A digital copy of the WW1 Military Service Records for John Joseph Luck can be read online
at the National Archives of Australia website.
Do a Record Search using John's Army Service Number.